Ball Scanners Wet – for wet inspection of surface and sub-surface of steel balls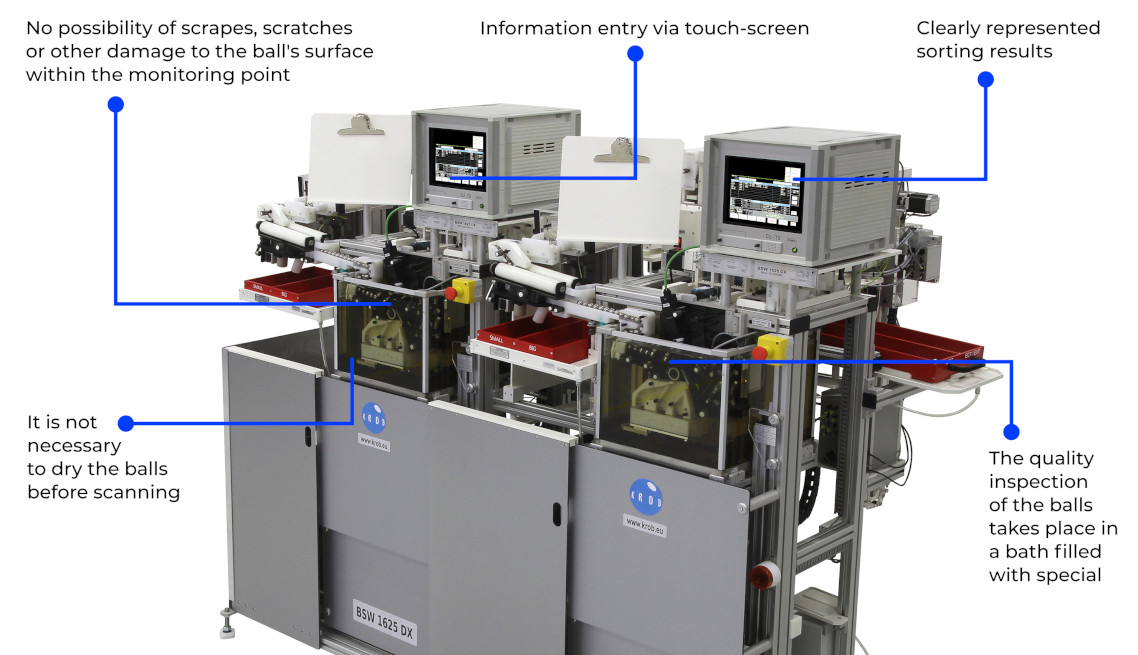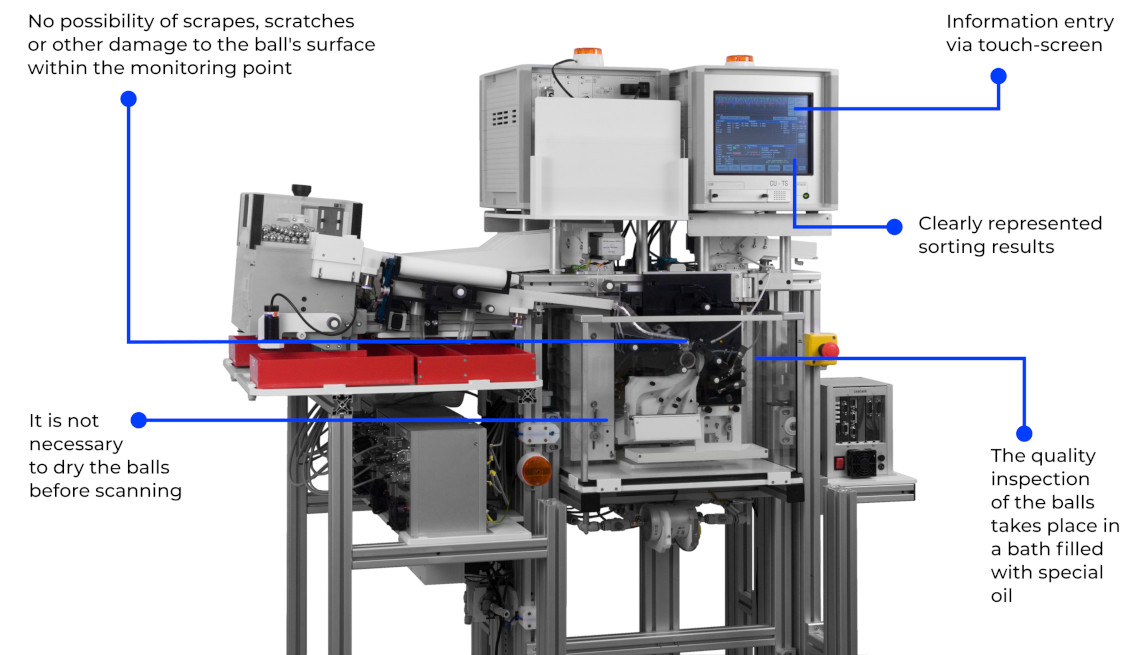 Ball Scanners Wet are a new generation of sorting machines of the DX and DXK model series for non-destructive quality control of the surface and subsurface of steel ball bearings. The balls are inspected by these Ball Scanners at a monitoring point that is immersed in a special liquid. The inspection is performed by the eddy current method (ECT), the optical laser beam method (EOT) and the vibration integrated accelerometer method (EVT). If another inspection method of quality control is required please contact the manufacturer.
With the Ball Scanner Wet, the inspection is carried out in a mineral oil-based fluid, which brings a number of advantages and improvements both to the quality and accuracy of the inspection itself as well as to the efficiency of the ball production process. Ball Scanners Wet are designed for simple and intuitive operation. The devices are suitable for continuous operation even in harsh operating conditions. Thanks to their advantages, Ball Scanners Wet have found application with leading bearing ball manufacturers worldwide.
Currently we offer BSW machines in the following ranges
Ball Scanner W
RANGE OF BALLS FOR INSPECTION
Information
BSW 0306 DX
3,000 mm – 6,350 mm
BSW 0306 DX (extended version)
2,778 mm – 6,350 mm
BSW 0306 DXK
3,000 mm – 6,350 mm
BSW 0306 DXK (extended version)
2,778 mm – 6,350 mm
BSW 0610 DX
6,000 mm – 10,319 mm
BSW 0610 DXK
6,000 mm – 10,319 mm
BSW 1016 DX
9,525 mm – 16,000 mm
BSW 1016 DX (extended version)
9,525 mm – 16,669 mm
BSW 1625 DX
15,990 mm – 25,400 mm
BSW 2542 S
25,000 mm – 42,000 mm
BSW 2542 S (extended version)
23,813 mm – 42,000 mm
BSW 4070
39,960 mm – 70,644 mm
Main advantages of our BSW compared to dry inspection
The balls have no traces on the surface after scanning, so there is no need for any final lapping after inspection.
The optical inspection (EOT) has a significantly higher sensitivity.
For large diameters, in addition to optical and eddy current control, an ultrasonic inspection can be used to detect defects further below the surface.
Other benefits of BSW
The lifetime of the spherocone rollers, the bearings and other spare parts can be extended several times.
The number of operations is reduced compared to a dry ball surface inspection. In a dry ball inspection, in most cases after the first lapping, there was a need for washing – drying – dry scanning – then final lapping to remove any traces of the scanning and repeated washing and drying – followed by preservation and packaging. In the case of a wet ball inspection, only one lapping is performed. The scanning liquid will evaporate after the balls emerge from it and a preservative film will remain on the surface of the balls if a percentage of a preservative product is added to the scanning liquid.
The production process is shorter, because fewer operations are performed (see above).
DX model series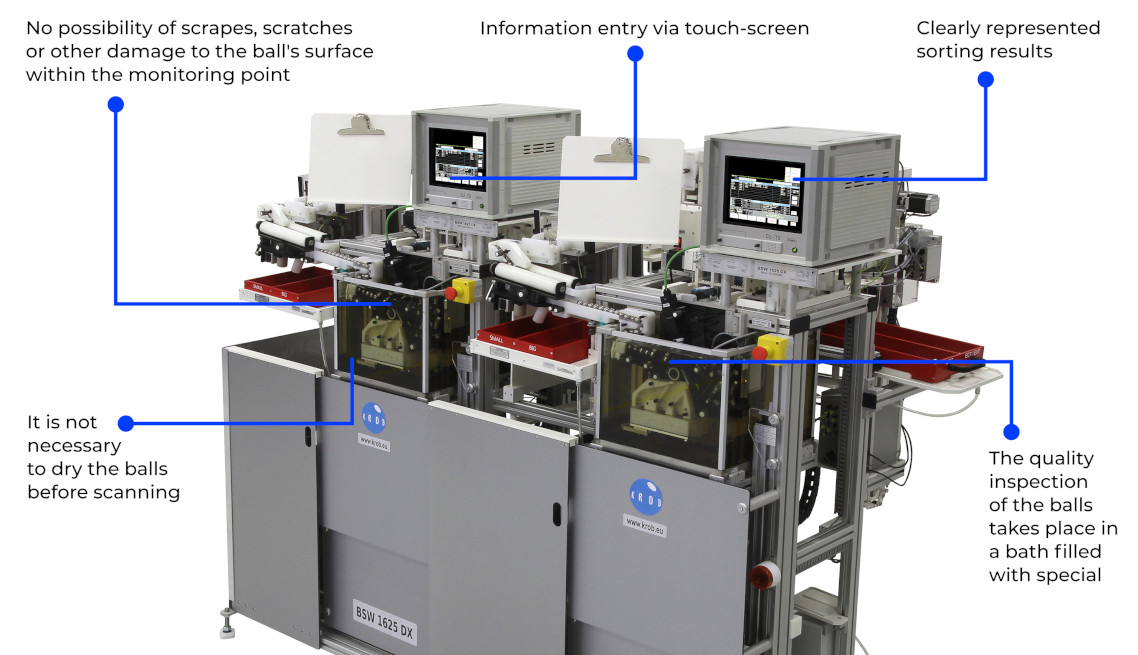 Two independent monitoring units in left-hand design. Two different diameters of balls can be inspected simultaneously.
DXK model series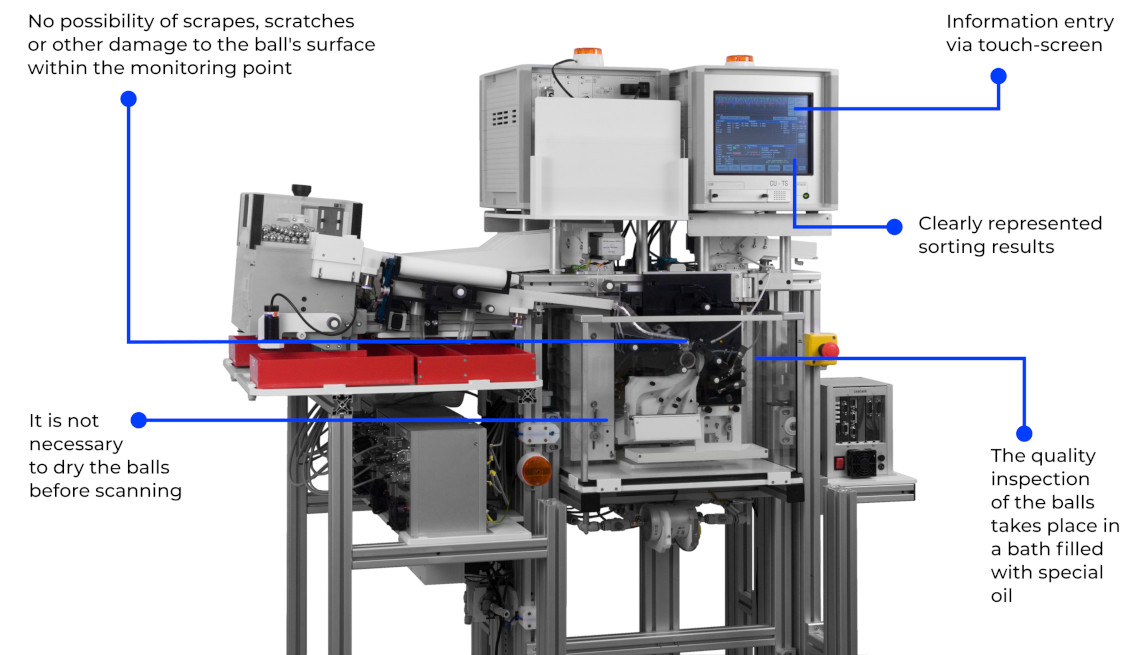 Two independent monitoring units mirrored back to back. Saving of approx. 40% of the built-up area compared to the machines of the DX model series.
Standard equipment of W series
User friendly inspection using Touch-Screen (CU-TS)
Immediate evaluation of each ball showing on the screen and option to print the inspection report
Inspection methods: optical (EOTW), eddy current (ECTW), vibration (EVTW)
Inspection Regimes: STD / AS / WD
ECT probe types for STD / AS / WD inspection mode
Possibility of using hardmetal and plastic drive discs
Reduced risk of false defects being detected due to dirt or dust when using the optical method
Hopper for balls
Pre-sorter of different ball diameter with +/-0,05 mm precision
Opening side panel for easier access
Stepper motors on inspsection elements
Possibility to monitor machine operation using WebBS
Machine status signalisation
Animation of Ball Testing in the BASC, BSW and BS machine
Animation of difference in function of ball scanning between STD mode and AS mode using a differential ECT probe